This tungsten mens wedding band features polished bevelled edges with American Mahogany or African Zebra Wood inlay bringing the great outdoors with you every day. 
👋 "Most Comfortable Men's Wedding Bands" - Forbes.

🔨 Tungsten's durability provides carefree everyday wear.
🌲 With each purchase we plant a tree for a greener future.
🕒 Please allow 1 week for your mens wedding ring to ship & notify us if a rush order is needed.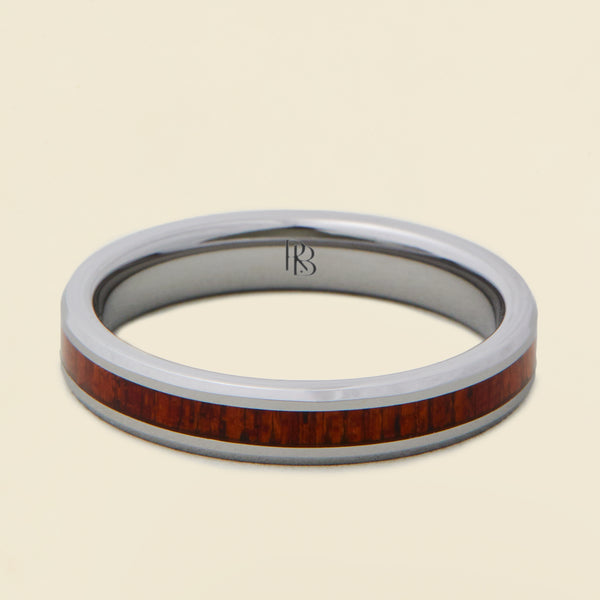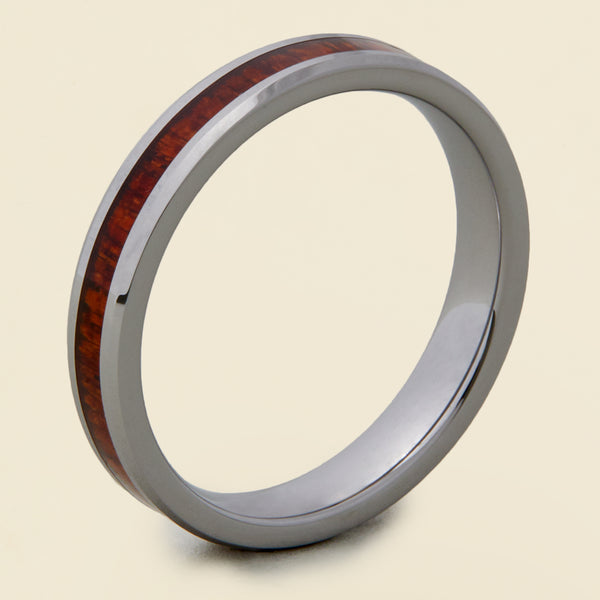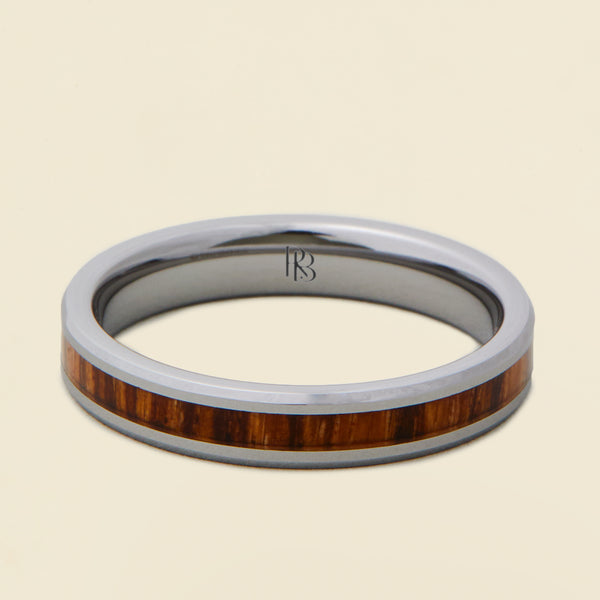 Carbon Neutral
RING BEAR is proud to offer the first Carbon Neutral assortment of men's wedding rings. Our customers are planning their futures & as a certified Carbonfree® partner we're committed to making it a greener one.
We utilize ethically sourced recycled metals, FSC certified timber, and recycled packaging while working to eliminate non-biodegradable plastic and magnets from our products.
The recycled metals used to craft RING BEAR gold mens wedding bands avoid nearly all of the energy, water & CO2 emissions traditionally required to mine gold. 75% of today's gold consumption is still newly mined gold and we're working to change that.
We celebrate each purchase by planting a tree to support the many benefits of reforestation. Read more on Why We Plant Trees
NO BS MARK UP
While maintaining the highest quality craftsmanship, we work with experienced manufacturers to sell fair priced mens wedding rings directly to you. Legacy retailers in the jewelry industry often markup their products 8-10x. That's not our style.  Without the traditional markup we hope you can put the funds towards other important stuff like the afterparty or honeymoon. 
Mens Rings FAQ
Why do Men Wear Wedding Bands?
Men started regularly wearing wedding bands during WWII to remind them of who they were fighting for. 
What do the K's mean?
24K refers to 100% gold but it is too soft for Men's Wedding Bands. Therefore metal alloys are fused with recycled gold to create jewelry that will last.
18K Gold (75%) - Our most valuable option but a little soft, we advise 18K if you're not doing consistent manual labor 
14K Gold (58%) - The Goldilocks, our recommended option
10K Gold (41%) - The most durable gold option, a great alternative to Tungsten
Platinum - A durable and hypoallergenic precious metal, serving as a firmer alternative to 18K White Gold. With its various industrial applications the value of Platinum has increased in recent years
Tungsten - An alternative metal, Tungsten is stronger than gold which has contributed to its recent popularity but does not hold the same value and thus is more affordable 
How Long Before My Ring Ships?
Please allow 2 weeks for Gold & Platinum & 1 week for Tungsten mens wedding bands. 
If a rush order is needed we ask you to email Customer@RingBear.com.
What if I don't see what I want on your site?
We are happy to accommodate requests for Rose Gold, Hammered Finish, Satin Finish, Brushed Finish, Matching Wedding Bands, womens / girls / female wedding rings, Alternative Widths such as 1.5mm, 2mm, 4mm, 5mm, 7mm, 8mm, 9mm, 10mm on request. Please email us - customer (at) ringbear (dot) com
Should I take my ring off?
Not if you want to stay married...
Again, Should I take my ring off?
If you purchase an 18K Gold ring and want to play it safe consider taking your ring off if you get the tool kit out or are lifting in the gym. Platinum, 14K, 10K & Tungsten are more than durable enough for normal everyday wear. However please be aware that precious metals can scratch when in contact with other metals and markings may appear during activities such as weight lifting or working with heavy machinery. 
Are your rings hypoallergenic?
Yes! All of our mens wedding rings are hypo allergenic.
What width should I go for?
Picking the width of your band should be both personal and practical. Some people are drawn to the 3MM and others the 6MM. If you have shorter hands but like the look of the 6MM we suggest the 4.5MM.
What color should I go for?
Color is largely a personal preference, Yellow Gold is more traditional whereas White Gold has seen a recent rise in popularity. 
What is my size?
Think of a mens wedding ring size like a shoe size - you don't want a ring two sizes too small. We strongly recommend using our official sizer to know your exact ring size.
Not ready to order? Email us at Customer@RingBear.com to arrange our ring sizer or order here.
We know you know but just in case you don't know, measure the finger on your left hand next to the pinky.
RING BEAR offers a free resizing should your finger bulk up or cut down in the future.
Reviews
(2)
Total 5 star reviews: 1
Total 4 star reviews: 1
Total 3 star reviews: 0
Total 2 star reviews: 0
Total 1 star reviews: 0
100%
would recommend this product
Just what I was looking for

The ring is great. I wanted a tungsten ring and I liked the wooden accent in the middle. It's very comfortable. Thanks for the ring!

Really happy with my ring!

My wife and I knew we wanted something with a natural tone and the wood was the perfect style for us. When it arrived it looked better than I was expecting. The tungsten feels super comfortable too.
Reviews Loaded
Reviews Added

"A smart & modern choice for any groom who wants a stylish band that'll withstand whatever life throws your way."
BRIDES.COM
You have the BEST men's wedding bands that I've found; I've have been looking for a little over a year now
Rhiannon B

"The sturdy Tungsten ring Mark bought from RING BEAR offers a real advantage"
WSJ.com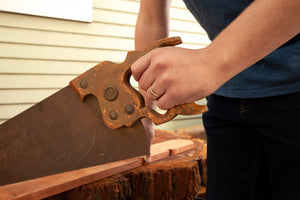 Tungsten
Tungsten has seen a recent rise in popularity amongst men's wedding bands due to its durability and affordability